Hearing loss is a challenging condition that can decrease your overall quality of life and have you feeling disconnected from the world around you. While hearing aids are the simplest solution to hearing loss, their high price tag means they aren't affordable for many people.
If you've been looking for cost-effective hearing aid providers, you may be curious about Hearing Care Solutions (HCS). This brand is one option that claims to offer transparency and affordability to people with hearing loss. They work with providers and insurance companies to sell discounted hearing devices to people with hearing loss.
Below, we'll provide a complete review of Hearing Care Solutions, including how they work, their products, and the best alternatives.
How Does Hearing Care Solutions Work?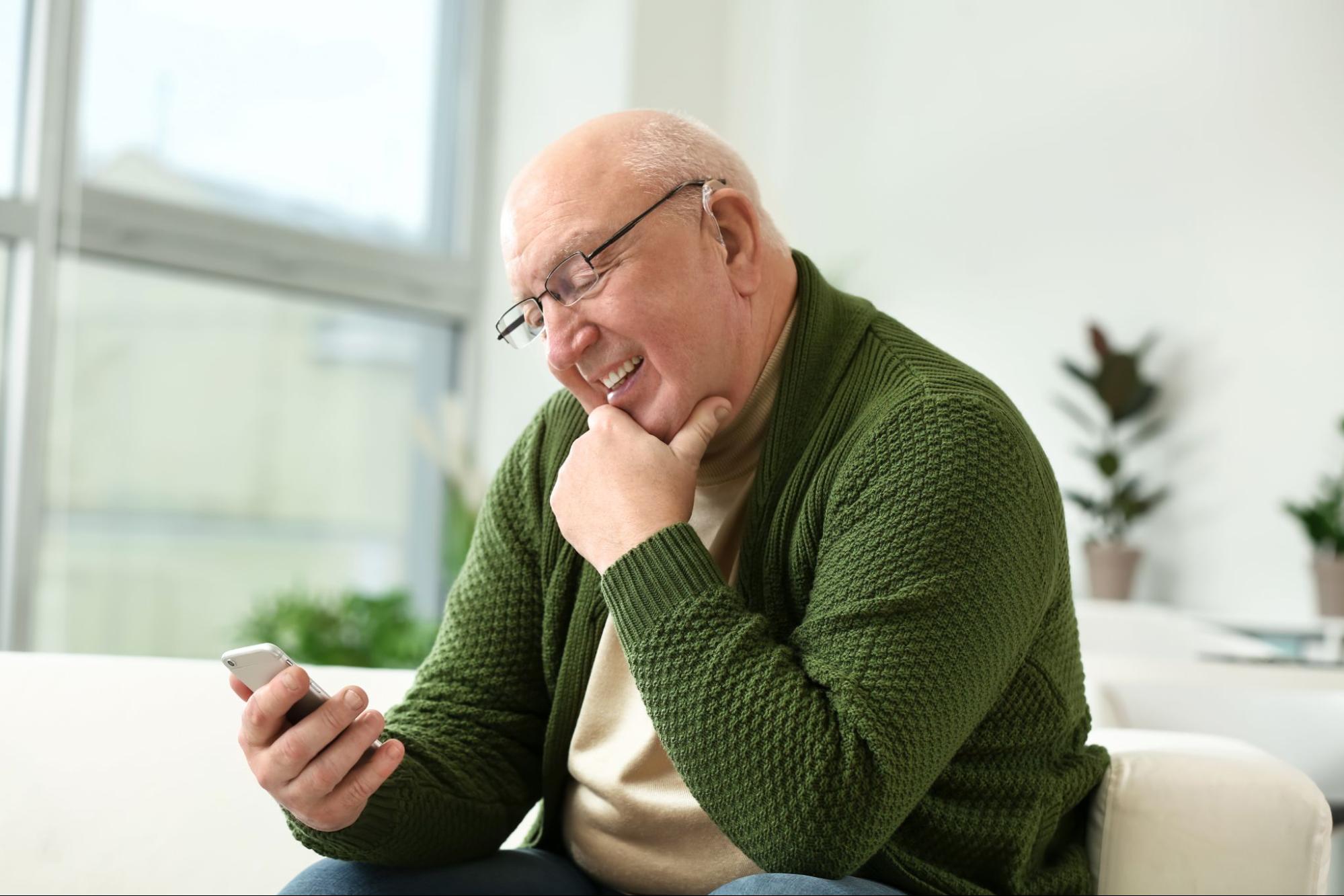 The first step of the HCS program is to hop on a call with one of their customer service representatives. They will help you set up an in-person appointment with a hearing health care provider near you.
According to www.HearingCareSolutions.com, you'll receive a complete hearing exam at no charge. But depending on your health plan, you may be responsible for a copay. That said, you should always check with your insurance company ahead of time, so you don't end up with any surprise bills.
At your appointment, you'll meet with a doctor who specializes in audiology. They'll help you understand your hearing test results and make recommendations based on your lifestyle, budget, and unique needs. If you decide to purchase hearing aids, your provider will place the order through HCS — you will not need to pay the provider themselves for hearing devices.
Hearing Care Solutions Pricing
HCS doesn't display specific prices for hearing aids on their site. However, they claim that they saved patients an average of $1,585 per hearing instrument in 2020, with prices starting at $500. They also come with a 60-day evaluation period and a three-year warranty covering loss, damage, and repair
The HCS program provides discounts by selling hearing aids to consumers at discounted costs. They also base their prices on technology level, instead of hearing aid style, to help you save even more money.
With traditional patient care, you can expect to pay close to $4,500 for new hearing aids. High-technology devices from Hearing Care Solutions can still run a steep price tag, but they'll still be much cheaper than traditionally purchased hearing aids.
All in all, HCS is a great way to cut your costs when you buy hearing instruments through in-person appointments. However, your final expenses will vary depending on your insurance coverage and the hearing aid models you choose.
Hearing Aids Available Through HCS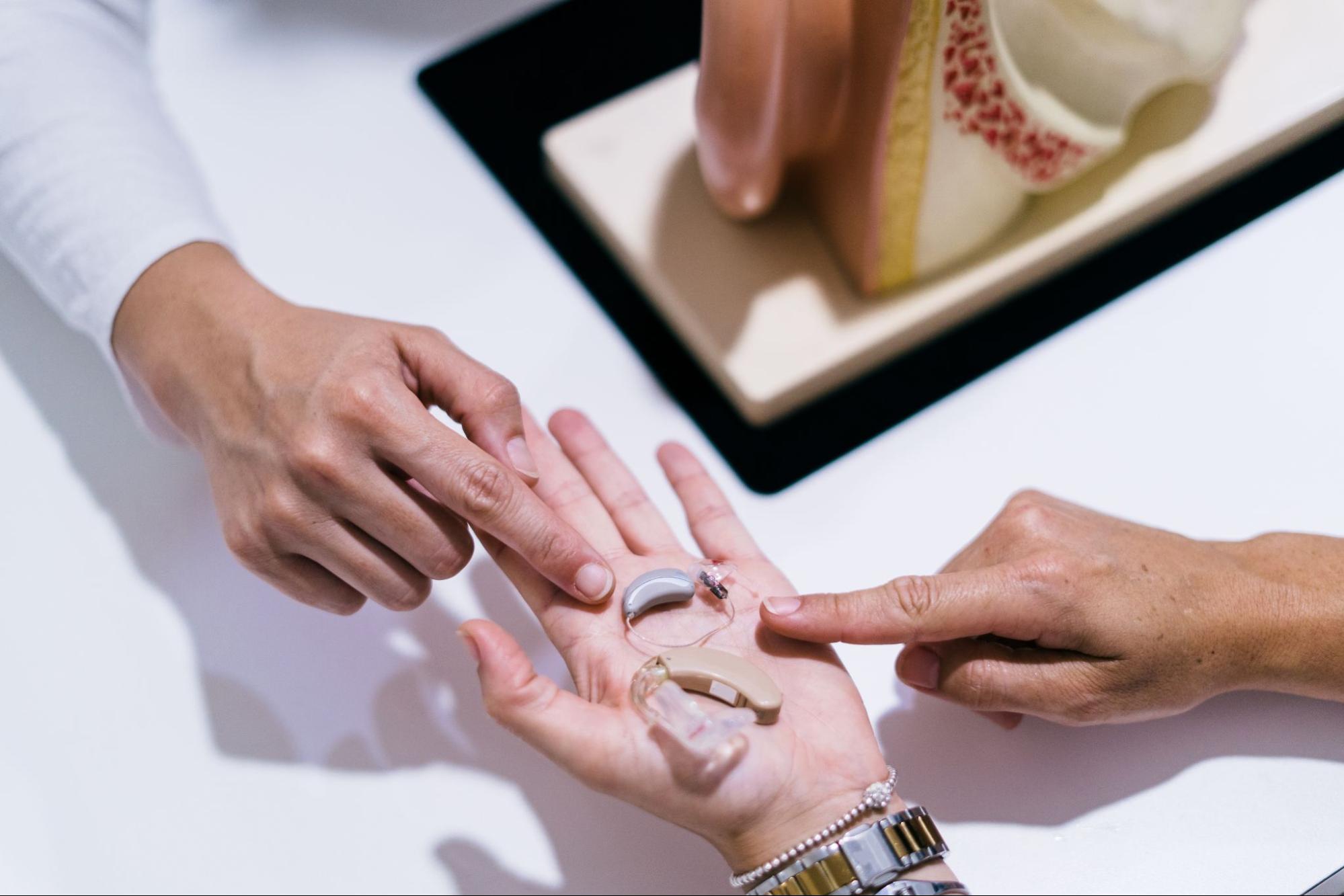 Hearing Care Solutions categorizes their hearing aids by technology and activity level. Put simply, the busier your lifestyle is, the higher the technology you might need.
They work with major manufacturers such as Beltone, Starkey, Signia, Rexton, Resound, Widex, Oticon, Phonak, and Unitron. And with so many brands available, you can rest assured you'll have plenty of options.
Below are a few examples of hearing aids that you can purchase through HCS.
Quiet Lifestyle: Starkey Muse IQ 1000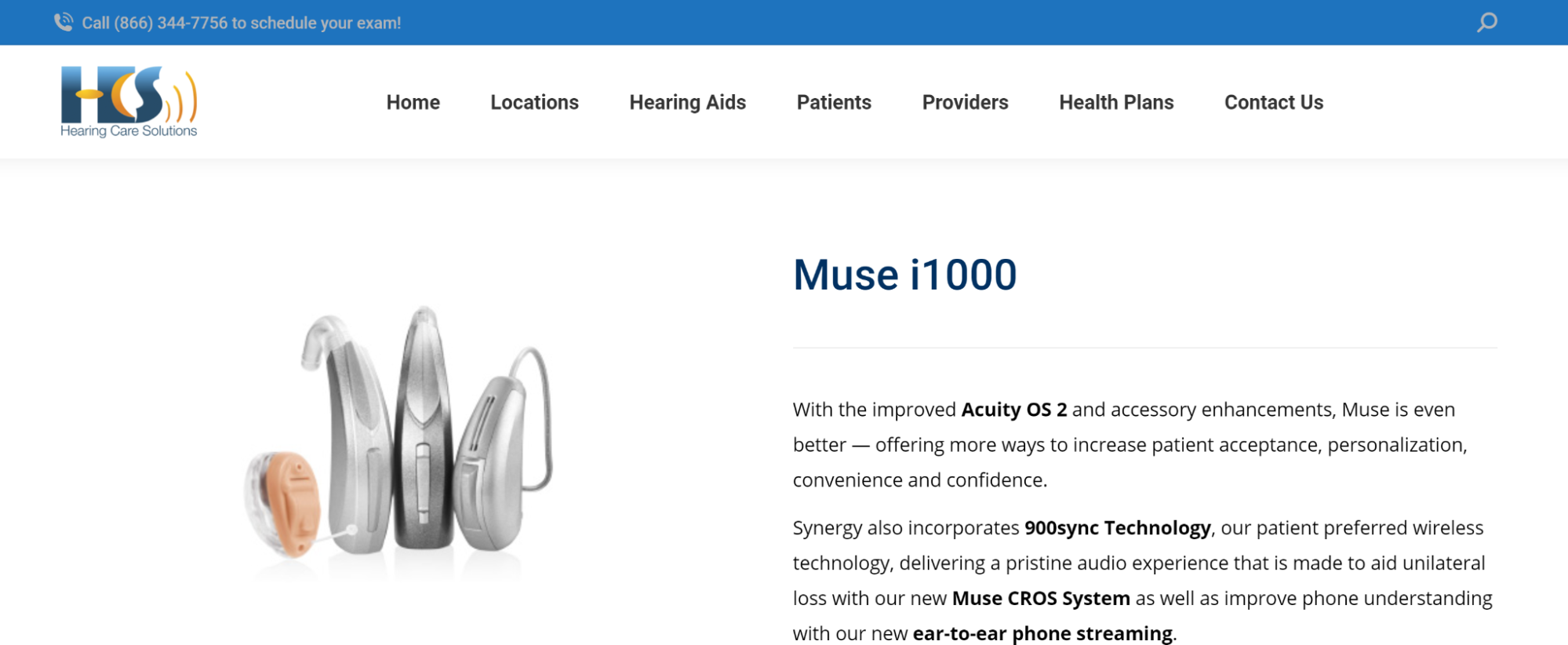 Source: hearingcaresolutions.com
The Starkey Muse IQ 1000 offers the lowest technology level in Starkey's Muse IQ line. These devices are available in receiver-in-canal (RIC), behind-the-ear (BTE), and in-the-ear (ITE) styles. Their technology makes them best for small group settings, one-on-one conversations, or other casual daily activities.
The Muse IQ 1000 comes with rechargeable batteries, four adjustable sound settings, and background noise reduction at an affordable price.
Moderately Active: ReSound One 5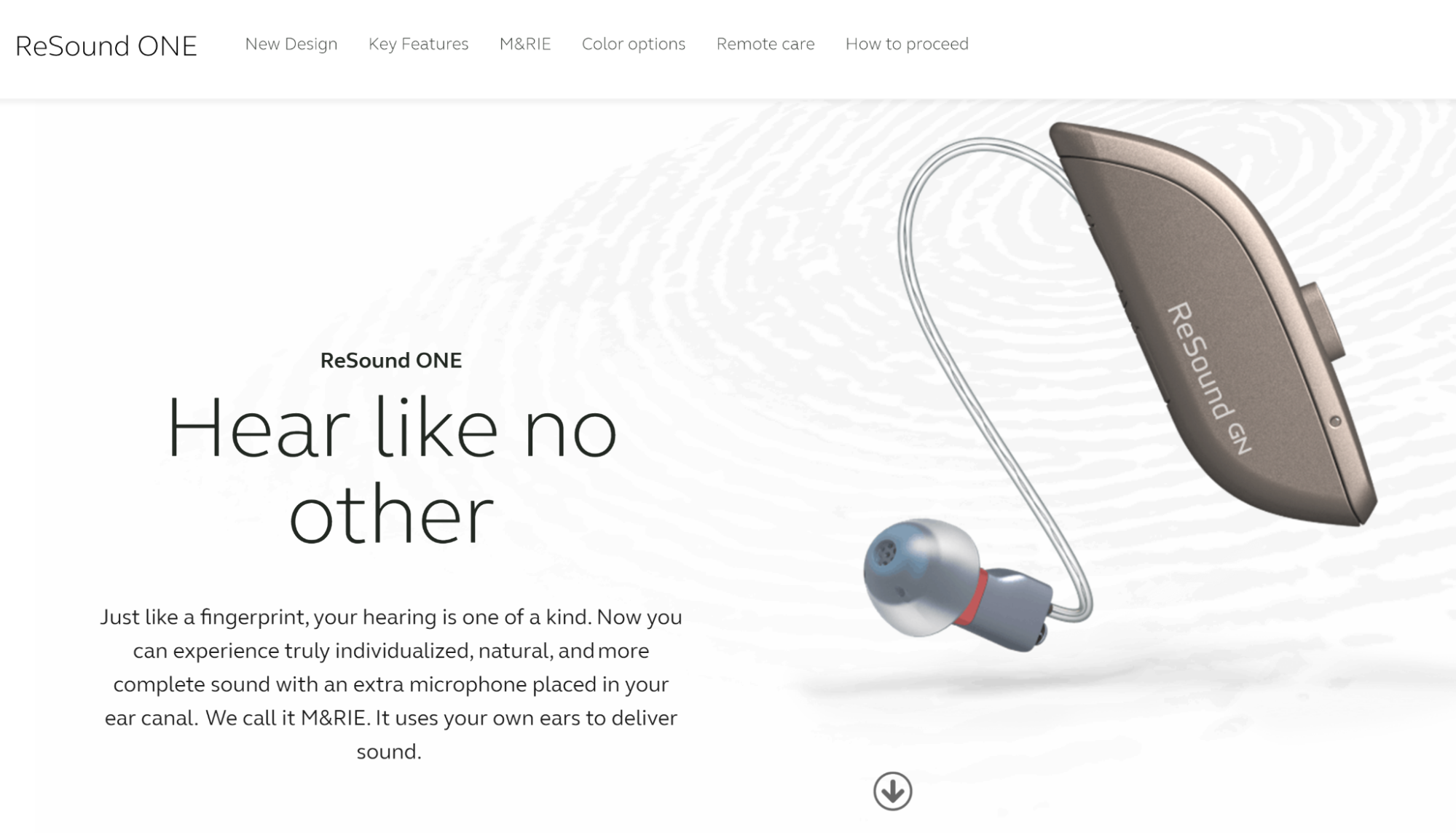 Source: resound.com
HCS lists the ReSound One 5 in the moderately active technology bracket. This model is best for someone who spends time at quiet restaurants, small gatherings, and in the outdoors.
The ReSound One 5 technology level makes it an overall mid-level device, with 12 channels and four customizable programs. This model is available in the receiver-in-canal (RIC) style, making it a discreet and comfortable option.
On top of that, these hearing aids can also connect with your smartphone via Bluetooth. This feature means that you can stream audio from videos, music, and even phone calls directly to your hearing aids. Plus, you'll be able to adjust your device settings right from ReSound's handy smartphone app.
Busy Lifestyle: Phonak Paradise 90 / R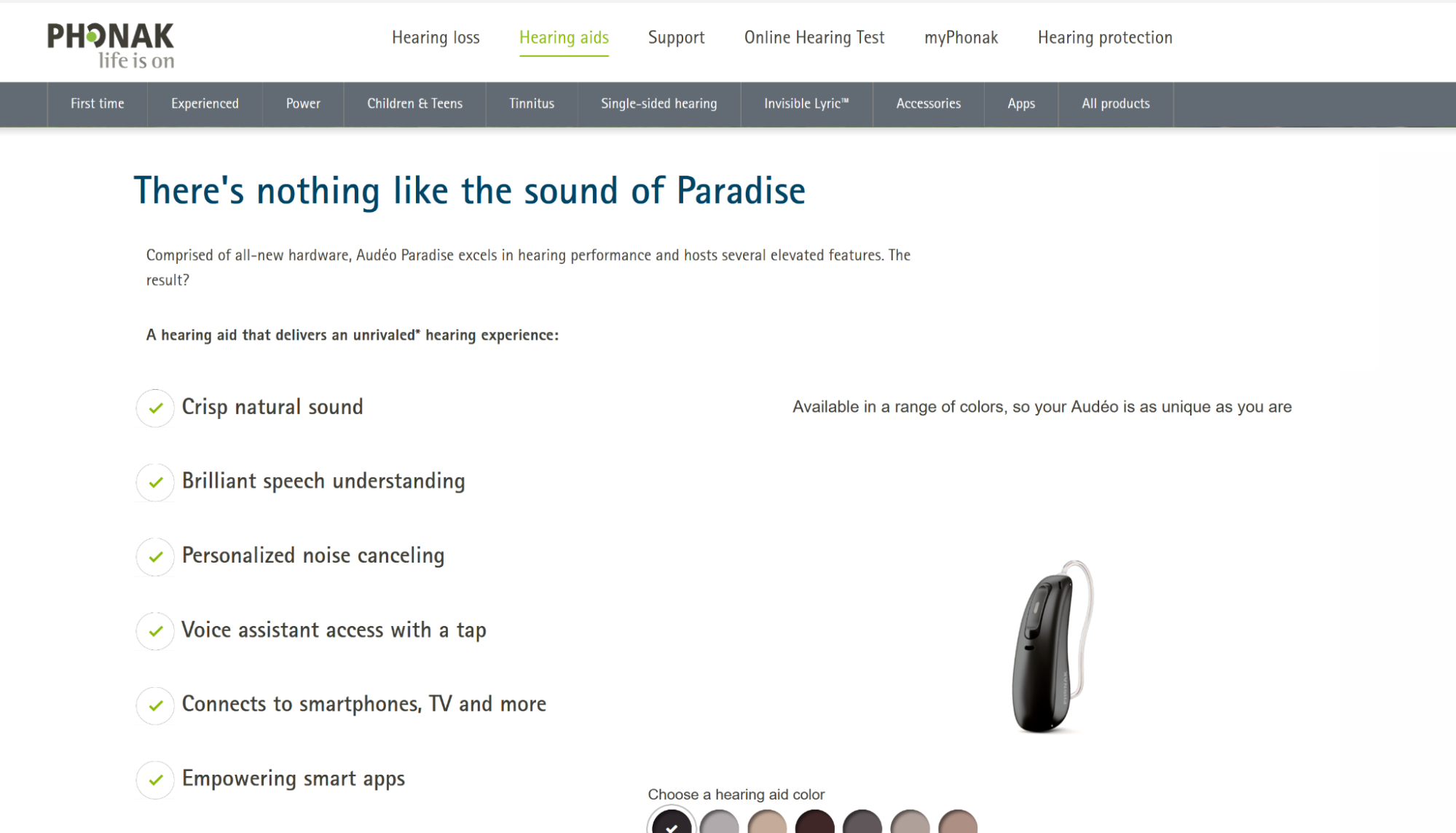 Source: phonak.com
The Phonak Paradise 90 / R has high-level technology that makes it a premium digital hearing aid option.
If you're regularly attending meetings, entertainment events, noisy restaurants, and other public settings, this device is perfect for you. It's rechargeable, Bluetooth connectable, and offers personalized noise-canceling settings.
The Paradise 90 / R's advanced technology means it comes with a higher price tag. And it's likely that this model will still be expensive even with the HCS discount. But depending on your hearing loss level and lifestyle needs, these hearing aids may very well be worth it.
Looking for an Alternative? Try MDHearingAid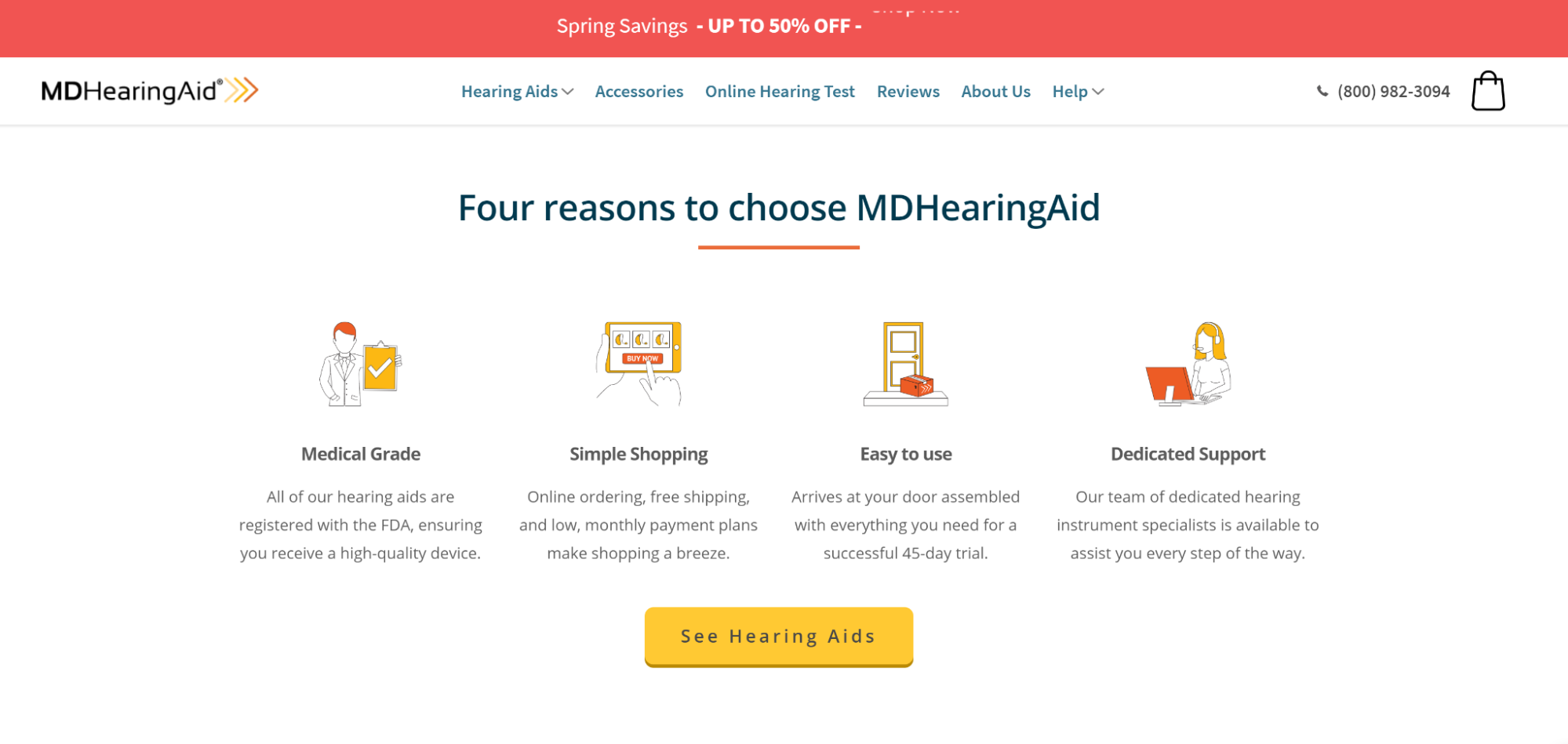 If you're looking for alternatives to Hearing Care Solutions, direct-to-consumer (DTC) companies are a worthy online option. DTC brands sell products directly to people in need — and no middleman means significant savings.
MDHearingAid is one direct-to-consumer company that addresses the price barrier of hearing aids. They offer four models ranging from $399 to $1,599 per pair — not per single device — and they provide a straightforward process to help you figure out which model is best for you. Best of all, you won't need to go to an in-person appointment to make a purchase. It's all done online, from the comfort of your own home.
One of the best things about MDHearingAid is that they have audiologists and hearing aid specialists on their team to help you get started. Their products also come with a 90-day warranty and 45-day trial period — so you don't end up stuck if the device doesn't fit your needs.
Below are two of MDHearingAid's most popular devices, along with their prices and features.
MDHearingAid AIR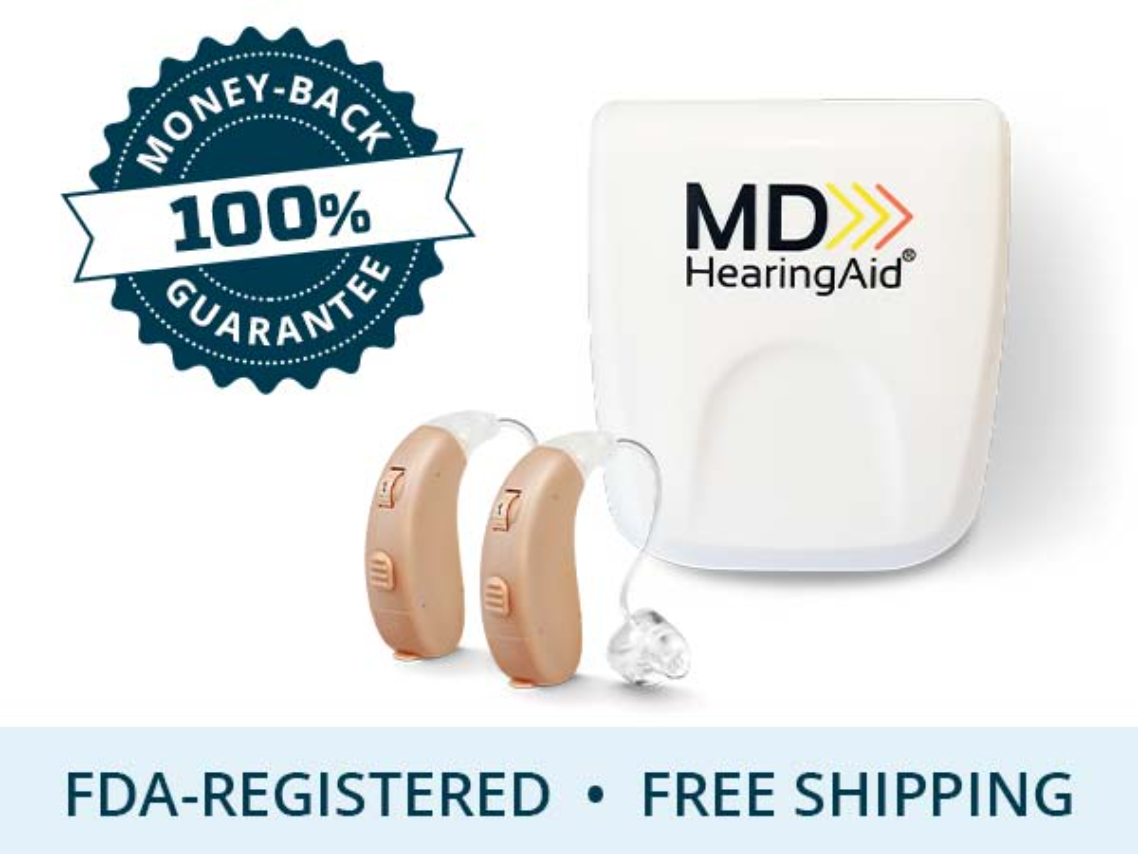 The MDHearingAid AIRs are the most affordable model the company offers and are America's best-selling value hearing aids. For the price, they offer some incredibly useful features.
The AIRs' digital technology means you can hear crisply in almost any scenario — at restaurants, watching TV, or even in busy social settings.
Beyond that, the AIRs feature feedback cancellation to prevent any pesky whistling sounds. They also provide background noise reduction and four programs to adapt to almost any environment.
You can get your hands on a set of MDHearingAid AIRs for as little as $399.98.
MDHearingAid VOLT+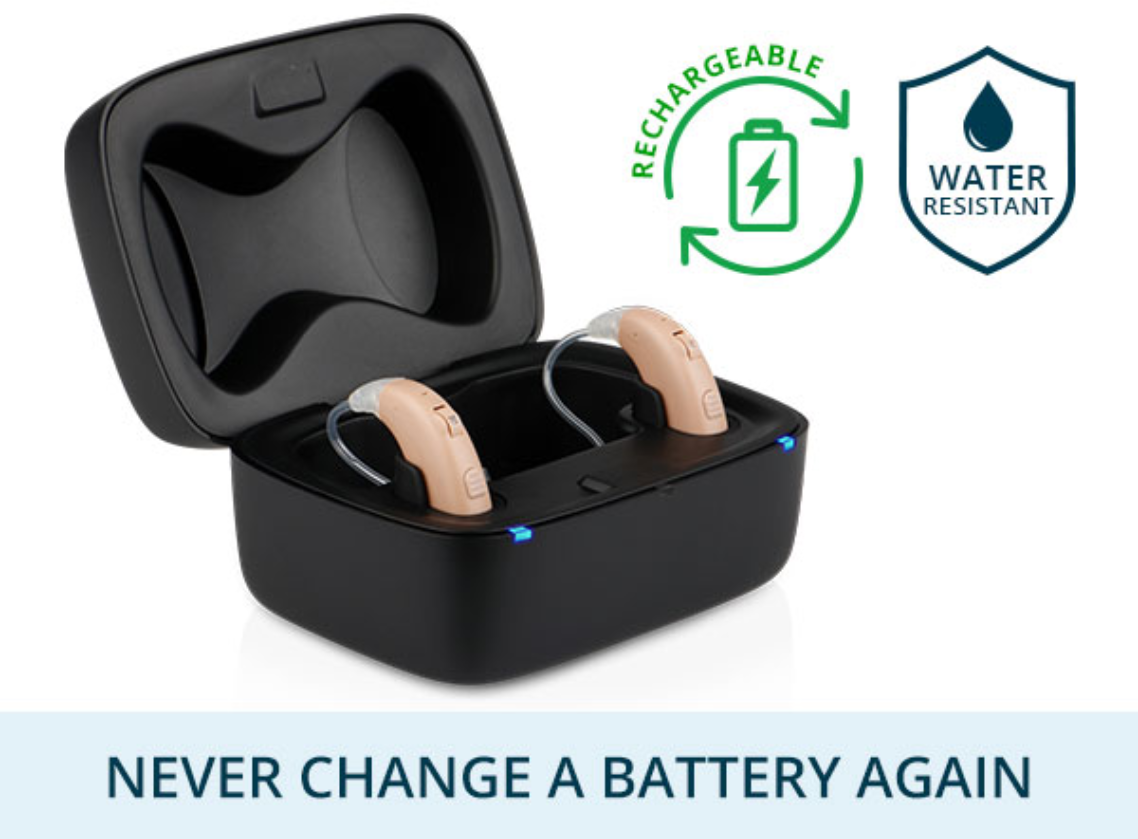 The MDHearingAid VOLT+ is a rechargeable, water-resistant model offered by MDHearingAid. These devices offer spectacular audio quality thanks to their dual microphones, background noise reduction, and feedback cancellation technology,
Their list price is $1,199.99 per pair, but you can get them as low as $599.98 during MDHearingAid sales. These hearing aids are great for active lifestyles and are particularly useful for meetings, church, or large family gatherings.
Choosing the Right Hearing Aid Provider
If you have hearing loss, the right pair of hearing aids can help you stay connected in life. But with all the online and in-person providers out there, it can feel impossible to choose the right one.
All in all, Hearing Care Solutions can work well for qualified applicants with compatible health plans. But even with discounts, prices can still sometimes be steep.
MDHearingAid is an excellent alternative to HCS because they're a direct-to-consumer company, meaning they cut out middleman expenses. Their hearing aids are medical-grade, and they even have audiologists on their team to help you get started.
To get an up-to-date overview of your hearing health, you can take MDHearingAid's online hearing screening test today. Afterward, you'll receive a free consultation with an audiologist to discuss your results.
Beyond that, you can also try FreeHearingTest.org's phone hearing screening test. It only takes five minutes to complete, and you'll get your results right away.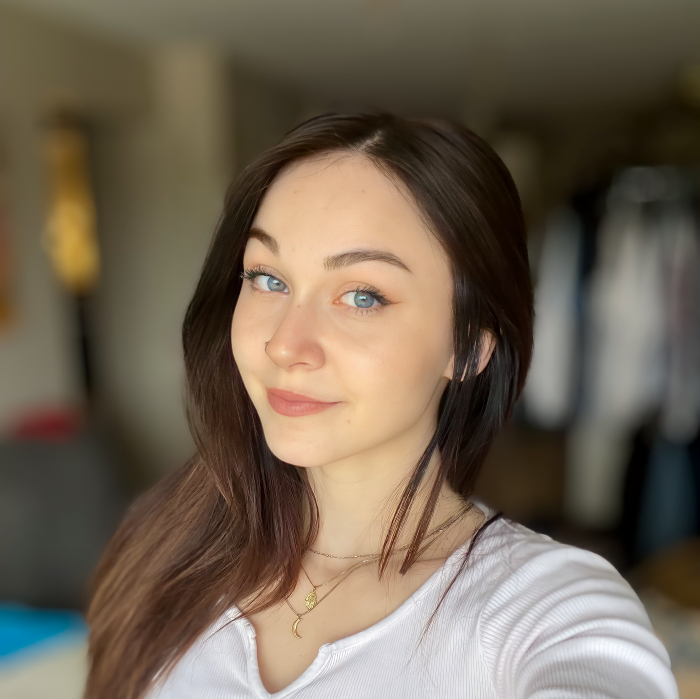 Freelance Writer
Alicia Schultz is a Minnesota-based freelance health writer, coffee-lover, and wellness enthusiast. Much of her work is geared toward spreading knowledge that can positively impact the world. When she's not writing, you can find her in the gym, hanging out with her family, or exploring somewhere new with her dog, Bonzo.