When you don't have good hearing, it doesn't only affect your ears. It can also negatively affect your relationships with your friends and family, disrupt your work and social life, and make being in public seem scary. Furthermore, hearing loss can result in other wellness issues, such as falling and dementia.
If you are one of the 15% of American adults who suffer from hearing loss, you can benefit from hearing aid technology. Having a hearing aid will enable you to interact with your friends and family as well as fully engage in your work and social life. In this article, we will review EPIC Hearing Healthcare's service and hearing aid options as well as an EPIC alternative.
What Is EPIC Hearing Healthcare?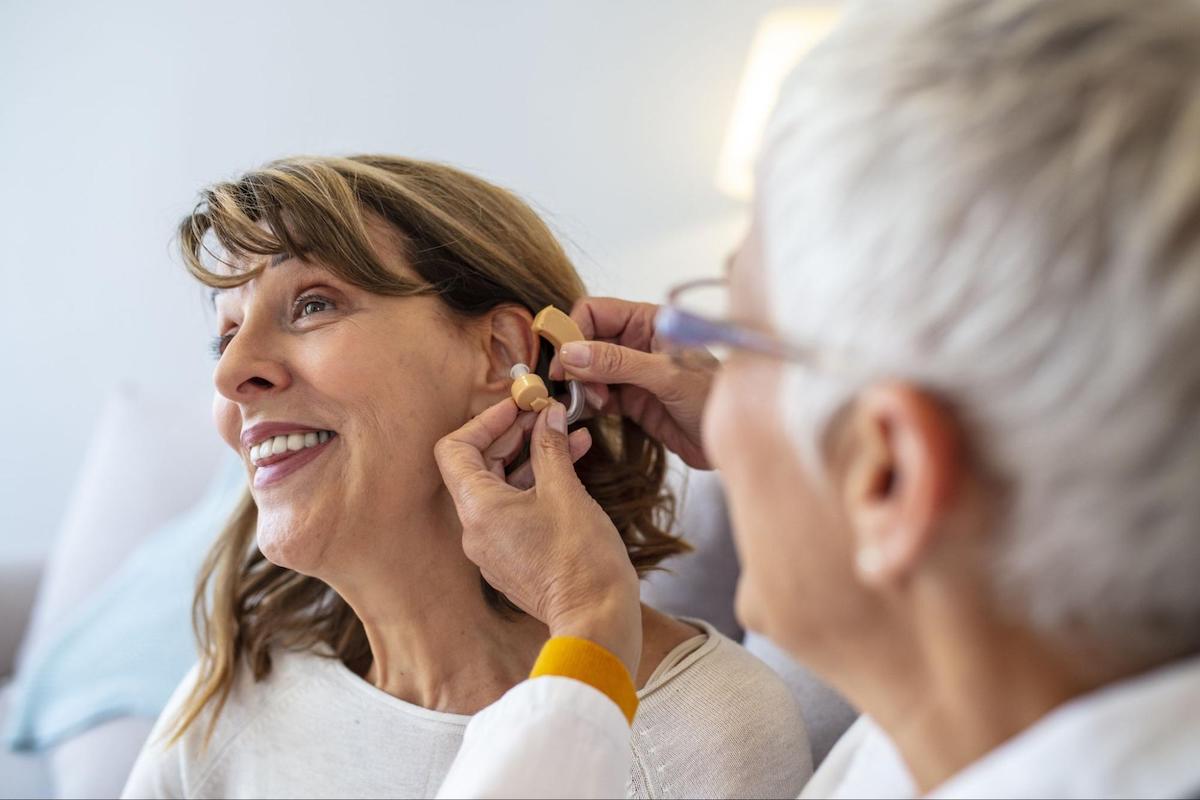 EPIC Hearing Healthcare describes itself as the largest hearing network in the United States. EPIC allows you to take a hearing exam and evaluation with one of more than 5,500 accredited hearing professionals.
With EPIC Hearing Healthcare, you can opt to receive your care in-person with a local network provider or in the comfort of your own home via their Right2You virtual care option. Both services include:
A three-year extended warranty that includes one-time loss or damage replacement

Three follow-up visits

A charging case or extra batteries and a cleaning kit
With the virtual service, EPIC offers a 70-day trial. The trial period is 45 days with the in-person service.
EPIC Hearing Healthcare's Process
When using EPIC Hearing, the first step in the process is to take a free three-minute online hearing test using either in-ear or on-ear headphones. After completing the test, you will fill out your name and contact information to receive your results and recommended next steps.
If the test shows you may have hearing loss, you can choose one of two care options: their Right2You virtual option or their in-person option with a local provider. It's important to note that even if you choose the virtual option, you may need an in-person visit if you need further testing. If you've received an in-person hearing test in the past year, you can submit those results for your online care.
In-Person Care
With this option, you will make an in-person appointment with a hearing provider near you to receive additional hearing tests if needed and order your hearing aids. If you choose either Relate or Phonak brand hearing aids, you can opt to have them shipped directly to you and to receive your follow-up care virtually. If you choose one of their other brand options or prefer in-person care, then you'll return to your local hearing provider to pick up your hearing aids and for any follow-up visits.
Right2You Virtual Care
With the virtual option, you will have a virtual appointment with one EPIC's Hearing Healthcare professionals to review your hearing aid options and place your order. EPIC will ship your hearing aids to you, and then you will receive virtual follow-up care, such as remote hearing aid adjustments.
EPIC Hearing Aid Options
EPIC has its own Relate hearing aid brand and also offers over 2,000 name-brand hearing solutions, including Phonak, Signia, Unitron, Widex, Starkey, ReSound, and Oticon. This provides customers with various style and state-of-the-art technology options, such as directional microphones, wireless connectivity, rechargeable batteries, and direct phone streaming.
However, if you use EPIC's Right2You virtual care service, it limits your hearing aid choices to Relate's rechargeable behind-the-ear or receiver-in-canal hearing aids or Phonak's rechargeable receiver-in-canal hearing aids.
EPIC's Relate hearing aids have the following features:
Programmable to suit your hearing needs

Reduced background noise

Speech clarification

Easy recharging

Bluetooth streaming to a smartphone app

Remotely adjustable
EPIC Hearing Healthcare Pros and Cons
EPIC's hearing program includes the following pros and cons.
Pros
It offers an online

hearing test

.

There is a hearing provider location finder online.

You can choose between virtual or in-person care.

You're given a wide range of hearing aid choices when you opt for in-person care.

Batteries and accessories are available to order.
Cons
The website offers no information on pricing — just that you can save up to 50-80% off of standard industry prices

You must meet with a hearing aid provider to order your hearing aids.

Virtual follow-up care is only available for Relate and Phonak brands.
EPIC Hearing Healthcare Reviews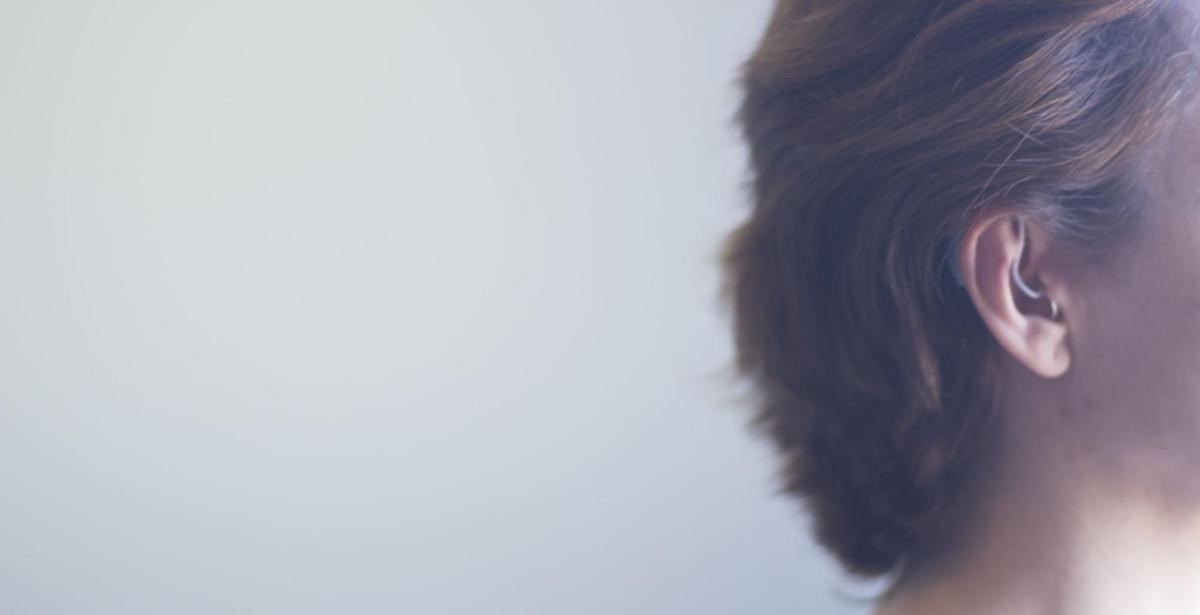 EPIC has several online reviews. The positive points relate to the quality of the hearing aids, while the negative reviews mention poor customer service.
Priscilla H. posted the following review on Yelp: "My grandmother had a very positive experience with EPIC. EPIC not only provided her with a great provider close to her home but also allowed her to utilize her insurance benefit to cover most of the cost of her hearing aids. Although it did take a few weeks for her to receive the hearing aids, my grandmother, overall, was very happy with her new hearing aids."
However, Julio R. reported a much different experience: "Have been waiting 3 weeks for a crucial hearing aid to be replaced due to the loss of the device. Have called repeatedly and emailed the company's CEO and no response whatsoever for 3 full weeks."
In addition, health professional Louise W. said: "The worst company to get hearing aids. It took us 8 days just to get a patient ID and every step after that was mismanaged. At one point, we had a representative from EPIC talking to another representative from UnitedHealthcare on two cell phones, and the second representative was telling the EPIC rep how to do their job. They don't care, they forward your call to another person who doesn't have any more knowledge or control of the situation. It's ridiculous!"
The Better Business Bureau has received nine complaints about EPIC Hearing Healthcare. The complaints involve long waits for replacement hearing aids, long waits for refunds, and failure to apply the complementary discount. All complaints were eventually resolved.
EPIC Hearing Alternative: MDHearingAid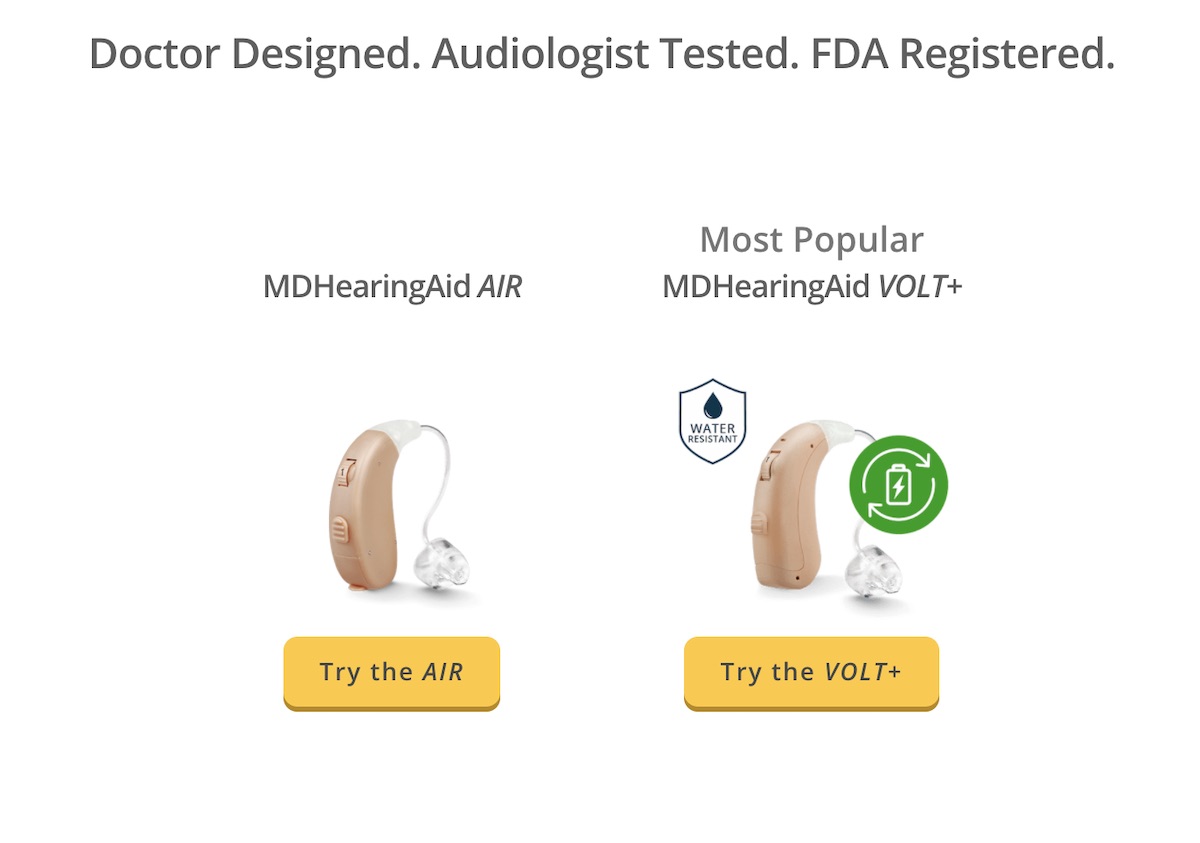 If you're looking for an affordable alternative to EPIC Hearing Healthcare, MDHearingAid may be the perfect option for you. They offer medical-grade hearing aids for 90% less, which is a substantial savings.
MDHearingAid has been providing hearing solutions for American adults for more than a decade. Age-related hearing loss usually doesn't require an in-person appointment. So, from the hearing screening test to your hearing aid purchase, MDHearingAid makes it possible for the entire process to take place from your home — with the support of licensed audiologists and hearing aid specialists every step of the way.
And the cost will never be a surprise. The hearing screening test and consultation are free, and you can view all hearing aid prices online. So, you'll know upfront what you'll be spending.
Here are some of MDHearingAid's available hearing aid models:
MDHearingAid AIR:

This device is the best-selling value hearing aid in the country. As well as four program settings, it has a digital microphone and easy volume control. You'll also enjoy high-quality noise reduction with settings for quiet, social, and noisy environments. The price starts at $399.99.

MDHearingAid VOLT+:

With this device, you no longer need to worry about batteries because it is rechargeable. Once fully charged, you can enjoy over 24 hours of hearing. The VOLT+ is water-resistant, has dual microphones, and smart background noise reduction. The price starts at $599.99.

MDHearingAid CORE:

The CORE's four program settings and dual microphones make it easy to adapt to your hearing needs. You can also use the MDHearingAid app on your smartphone or tablet to set up your personal hearing profile. The price starts at $799.99.
Finding the Right Hearing Aid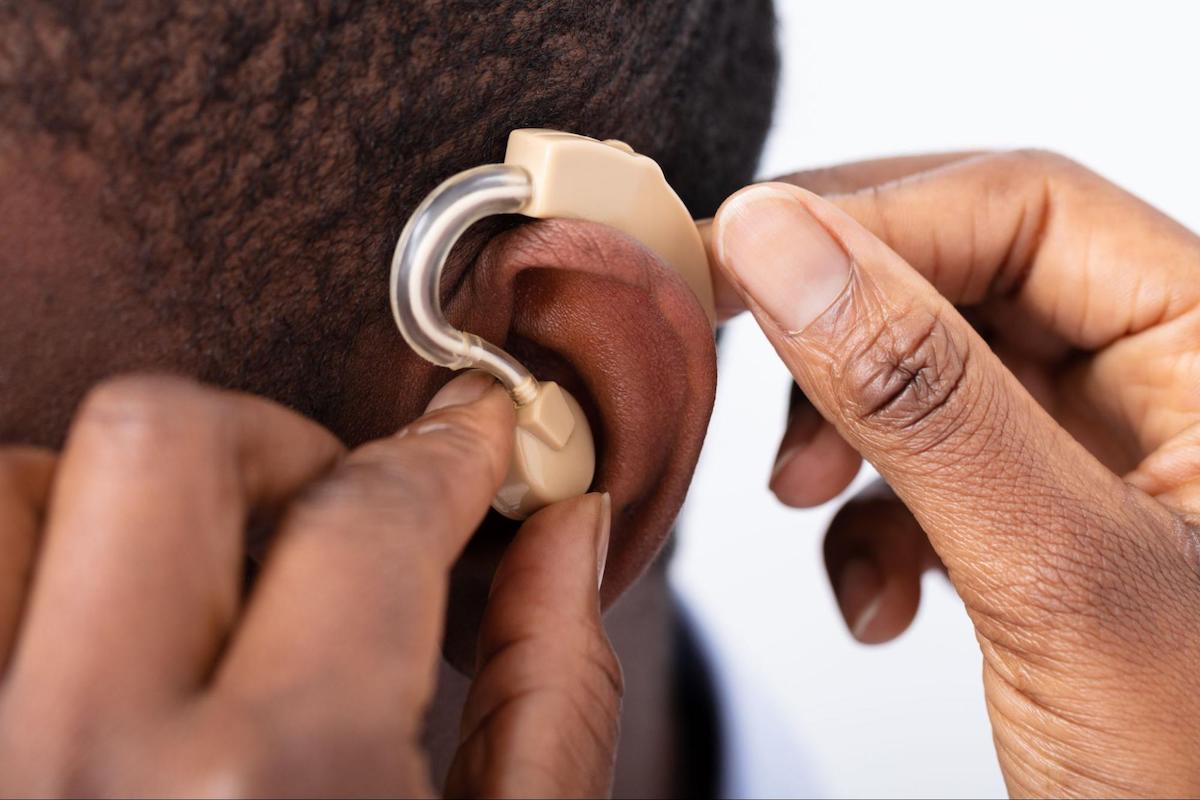 EPIC Hearing Healthcare has a national network, so you shouldn't have a problem finding a participating provider in your area. And while they do offer a wide range of hearing aids, it is not clear what the pricing is on these devices. Lastly, although they offer remote appointments, your hearing aid options will be more limited.
MDHearingAid has many benefits for your hearing health. They offer a very affordable range of hearing aids, and you will know the cost upfront. You can take your hearing test, have a consultation with a hearing counselor, and purchase your device all from the comfort of your home. They also offer a 45-day trial period.
If you're finding it difficult to follow conversations or you're straining to hear your favorite TV show, consider FreeHearingTest.org's free phone hearing screening test. You can take the test from a landline or mobile phone in less than five minutes.
Alternatively, you can take a free hearing test online at MDHearingAid.com in less than eight minutes. This test has the added benefit of a free audiologist consultation.
Freelance Writer
Corinna Underwood is uprooted from the UK and transplanted in the USA. She has been writing about health and wellness for twenty years. She also writes mystery novels.